Price

RM229.90

Product SKU
BD31052Anya
Brand
Our Generation
Size (L x W x H)
13 cm x 8 cm x 46 cm
Availability
In Stock
Quantity
Description
Highlight
18-inch jewelry doll with pierced ears, long blonde hair, and gray-blue eyes
Includes complete outfit, 2 necklaces, 3 pairs earrings, jewelry stand, and more!
Compatible with most 18-inch dolls including American Girl and Journey Girl
Suggested for Age 3+ (small parts)
No batteries required
A True Gem! 18-inch Jewelry Doll
Everyday can sparkle with the right jewelry!
Enter a world of sparkle and style with Our Generation Jewelry Doll – Anya, a beautiful 18-inch doll with long blonde hair and unique gray-blue eyes.
Because we're a very special generation of girls, aren't we? We don't feel the need to define who we are. We're just us, and proud of it. We love to do our hair, wear skirts, and dig in the dirt. (Occasionally all at the same time, if we feel like it.) We're curious about laser beams while we're chasing after our big dreams. We are here to live out loud. This is our time. This is our story.
Fashion Accessories for 18-inch Dolls!
All that glitters, and a heap of fun, too!
What makes Anya special? She has a fantastic sense of humor, a passion for helping animals, and she has pierced ears that can really wear earrings! Anya wears a pretty pink dress with a silver sequin shrug. She comes with a pair of purple rosette earrings, a matching pink rosette necklace, a pearly necklace, purple rosette hair pins, heart stud earrings, a headband, and a jewelry stand. Mix and match Anya's jewelry to create different styles. She loves to change her look with your help!
Related Products for a World of Play!
There are so many great Our Generation dolls, accessories, and outfits to choose from! You can create your very own world of imagination and play!
Have you met the other Jewelry Dolls, like Maeva and Adelita? They have pierced ears just like Anya and love to accessorize!
Anya and her friends love to dress up in different looks, like the Need for Tweed deluxe outfit featuring a beautiful purple satin dress!
And for keeping all their wonderful jewelry and clothes organized, check out the Wooden Wardrobe closet for your 18-inch dolls. It has all kinds of storage space!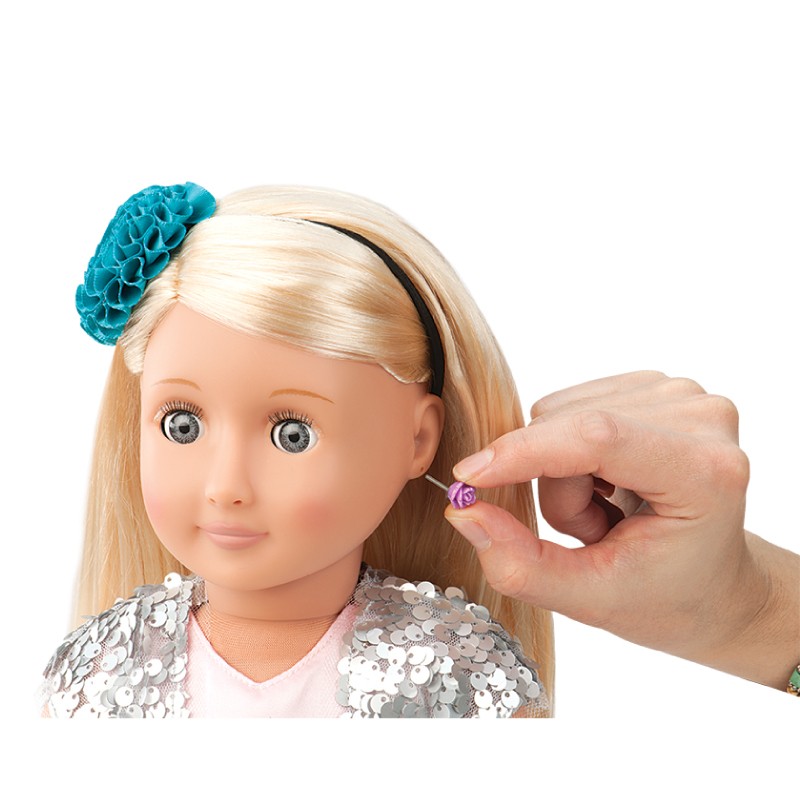 Reviews (0)
view all
back